ROMOSS UPower 10000mAh Power Bank
2-in-1 Hybrid Power
Perfect Mate for Travel
Safe & Reliable High-density Li-polymer Cell
10000mAh High Capacity
Compare
ROMOSS UPower 10000mAh Power Bank
2-in-1 Hybrid Power
Plug in socket and get self-charged directly. Support sync charge & discharge. Save your time and simplify your life by using this perfect combined power bank with AC plug.
Perfect Mate for Travel
The delicate suitcase exterior design indicates perfect fit for travel companion. Replaceable & foldable plug is applicable for different countries and setting in tight spaces.
Safe & Reliable High-density Li-polymer Cell
By adopting the same battery cell as smartphone's, the high-density Li-polymer power bank greatly improves its safety & portability.
10000mAh High Capacity
10000mAh large capacity enables to keep you going for days.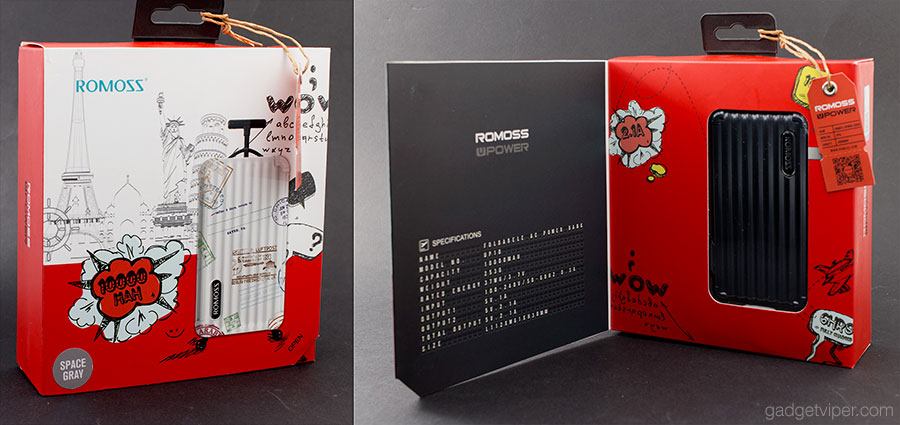 Inside the box

Along with the power bank, the UP10 comes with a branded anti-tangle USB charging cable, a user manual Additionally, for those purchasing the product from outside the US, there will be a 3-pin UK mains adapter included.

Build Quality and Design

The ROMOSS UP10 Power Bank is shaped like a miniature suitcase. I've seen this design before on theZendure A8 (currently at the top of my best high capacity power bank list).

On its left edge is a single button that can be pressed to start a charge or display the remaining battery life. This is indicated by four LED lights above the button, each one signifying a charge of 25%.

The UP10 has two USB ports on its top edge. Each port is identified with a single or double lightning bolt symbol. One of the ports has a max output of 1A, while the other provides a 2.1A charge.

This is handy for charging portable devices that specify a lower charge rate.  I have a number of action cameras that insist on a 1A Max input.

Most power banks these days advertise 'smart ports' which automatically adjust their output to suit the connected device. For those that are a little dubious about the reliability of this feature may prefer the manual option offered by this device.On its left side, neatly tucked into the body of the device is the UP10's most unique feature – an integrated wall adapter. By default, this will suit a regular 2-pin US socket.
The pins flip down and click in place, allowing the power bank to plug directly into a wall socket.For UK customers, there is a standard UK plug adapter that slides securely over the pins.
The overall design and build quality is fantastic. The housing feels robust and all the components fit together with precision
The ROMOSS UP10 features pass-through charging technology.This means that you can plug the power bank into the wall and thenconnect your devices. They will begin charging as if connectedto a regular mains adapter.

Once complete, the UP10 will automatically stop charging them and begin recharging itself. This allows you to safely charge up to two devices, as well as the power bank, from a single socket.
Performance
If you've watched my demo video you'll already know how well the UP10 performs. It has the best efficiency rate I've seen from a 10000mAh power bank. I time-lapsed it charging my Galaxy S7 edge and it managed an impressive 2.4 charges. It's achieving a whopping 84% efficiency, this is way above the average. Most of the 10000mAh power banks I've tested have struggled to provide two full charges.
Verdict
The ROMOSS Upower 10000mAh power bank is a quality product. It's well presented, well designed and performs way above expectations. If I ever get around to making a best 10000mAh power bank list, I would not hesitate to place this right at the top.
Product Name
UPower
Model
UP10
Capacity
10000mAh
Input
100-240V/50~60Hz 0.3A
Output
USB 1: 5V/2.1A
USB 2: 5V/1A
USB1+2=2.1A
Dimension
~L112 x W61 x H30mm
Weight
~253g
Color
Space Gray, Rose Gold, Gold
In the Box
UPower*1, Micro USB Cable*1, User Manual*1, Flexible Plug*1 (Except for US Standard)
| | |
| --- | --- |
| Weight | 253 g |
| Dimensions | 11.2 x 6.1 x 3 cm |
| Brand | ROMOSS |
| Color | Rose Gold, Space Gray, Gold |
| Plug Type | USB |
| Capacity | 10000mAh |
| Number of USB ports | 2 |
| Type | Portable Charger |
Delivering your online order
Get this delivered on a day to suit you
At iClick we deliver 6 days a week. Choose from:
Next day delivery (AED 45): On orders placed before 9 am Saturday-Thursday. Tell us your mobile number and on the day of the delivery we'll text you to say what time your order will be with you.
Same day delivery (AED 60): Exclusively for selected addresses in Dubai Only. Simply place your order before 9:00am Saturday-Thursday and receive it that evening between 6:30pm and 10:30pm.
Order online and collect in store:
Sometimes you'll want something even quicker than we can deliver. Or you can't be in when our van or courier would arrive. That's why we offer you the option to order online and collect in store.
Subject to what you're ordering and where you want to collect from, you can:
Reserve & Collect – reserve online for free and collect at a local store as soon as you like. Once reserved, your item's held till closing time the next day, to be paid for when you collect.SUBJECT TO AVAILABILITY*
Pay & Collect – pay online, and have the item sent, for free, from our warehouse to a local store for you to collect. Starting on the date the item arrives in store – which you choose in checkout – you have 24 hours to collect it.